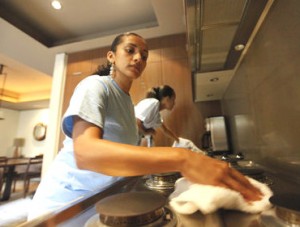 DomesticCleanLondon is a local cleaning agency in London providing domestic and commercial cleaning services.
The cleaning servcices we are about to offer you is one of a kind because of many reasons. First of all, we want to point out that there is no other cleaning agency out there that can meet your needs in the way we can and there are lots of reasons for this. It is more than important to know that we have been building our positive reputation for years, and we have been giving our best. This is why we can't risk losing it by cooperating with people without any experience in the field of cleaning.
Basically one off cleaning means that we will come and clean everything in a matter of hours! Such type of cleaning is suitable for people who are about to host an event or who don't want to waste their time cleaning their own home simply because they have more important things to do. As a matter of fact we want to inform you we have several cleaning packages depending on your budget and needs.
And speaking of budget we can't help but mention that our rates are definitely unbeatable and there is a reason for this. Once you see the way we take care of our activities you will see that you have made the right decision. On the other hand, it is really important for you to know how to manage things and make them right and making one phone call in order to book the services of our cleaning agency!
Here is what we want to offer you:
Deep cleaning of the entire place
We can be booked for cleanings of offices and houses
Vacuuming the carpets
Hand-washing and cleaning the floors
Using deodorizer if required
Last but not least – at our cleaning agency we want to make sure that we have understood all of your requirements and this is why when you give us a call we will ask you a few routine questions in order to determine your needs – lose no more time – call us!