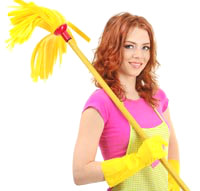 DomesticCleanLondon provides variety of domestic cleaning services in London. You can book a regular or one off domestic cleaner for your home.
Nowadays it is no easy task to do the chores around the house. Yes, the chores keep piling up as quickly as ever, but we are all much busier that we used to be ten or twenty years ago. We seem to have reached the moment when having a domestic cleaner help around the house has become a necessity.
Without a domestic cleaner to help with the heavy load that the chores present us with we would be left at a dead end trying to handle both our professional duties and the work at home. Doing both is hardly a possibility, so hiring a domestic cleaner is the only option available. Our cleaning agency offers you the chance to hire one of our professional domestic cleaners.
Hiring a domestic cleaner is a decision you will not regret. Thanks to the help of the employee we assign to your home, you will soon find yourself in possession of something that is indeed very rare these days – free time. You will be able to spend quality time with your family, go out and relax with friends, or do some extra work from home. Whatever you choose to do, you will find out how useful it is to have some free time for yourself.
You will also marvel at the quality of the job that our employee does. Your home will shine like it hasn't for years, and when our employee has finished cleaning up, you will be able to rest assured that your health and the health of your loved ones is not threatened by germs, dust and other such common dangers to your wellbeing. After all your health is our prime concern.
All our employees are professionals trained in accordance with the latest standards of the cleaning industry. In case you are wondering about their personal integrity, as is quite natural when it comes to allowing one of them free access to your home, you would be glad to know that before hiring people, we put them through thorough tests and do everything we can to make sure they are ethical and devoted to their work.
You need not be a busy working person in order to enjoy the services of one of our domestic cleaners. If you just do not feel like spending your time scrubbing floors and dusting furniture no one will think less of you if you hire a professional to do that for you. So call us now!